Prince Charming Carrousel Being Renovated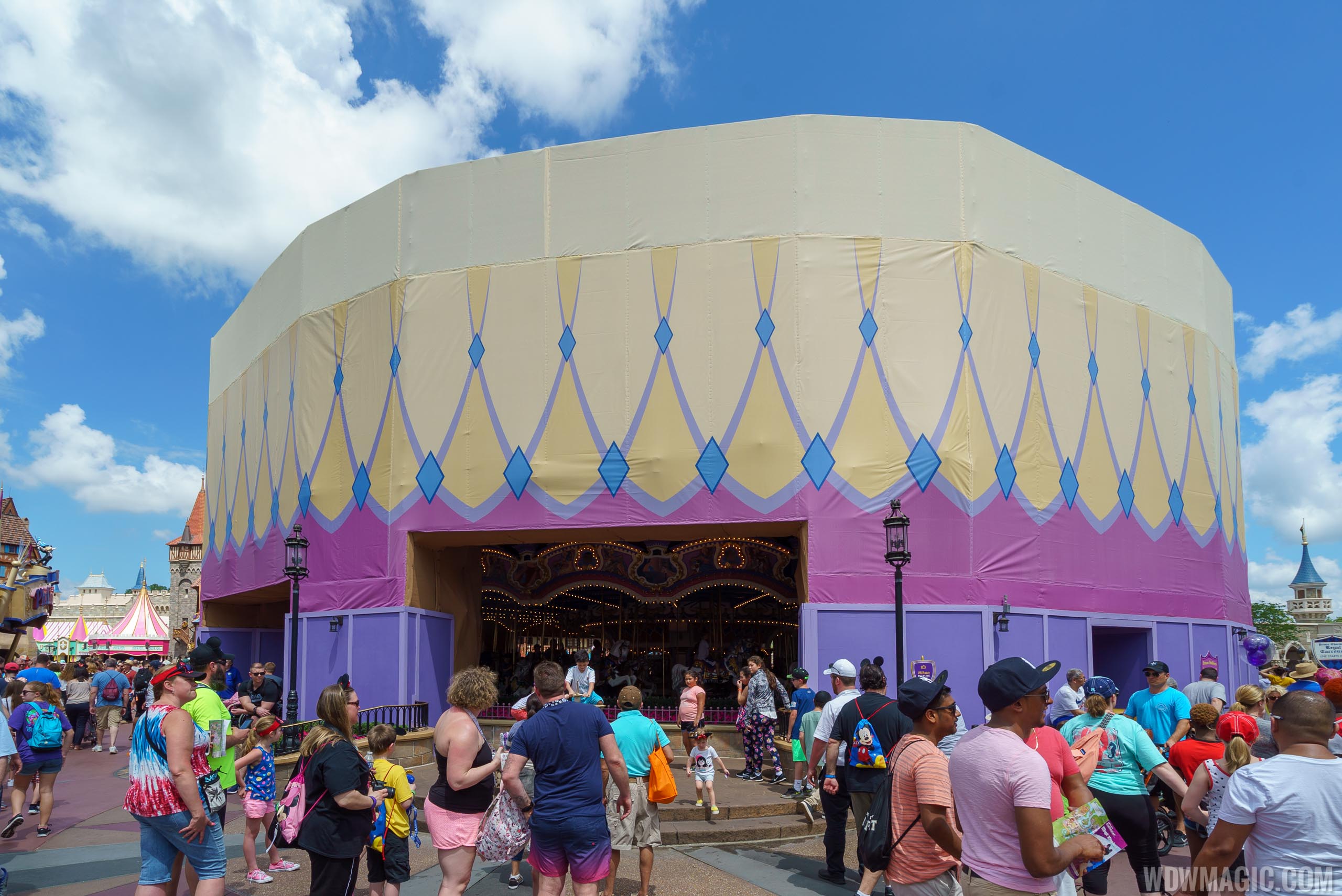 Prince Charming Regal Carrousel at the Magic Kingdom is currently under a major external refurbishment, with the entire structure hidden behind a tent like structure.
Despite the scale of the refurbishment, the attraction is operating as normal, with no planned closures yet announced.
Set in Fantasyland, just behind Cinderella's Castle, guests can ride a horse on a 1917 vintage carrousel. Previously known as 'Cinderella's Golden Carrousel', the attraction was renamed on June 1, 2010 to 'Prince Charming Regal Carrousel'.
History
The Carrousel was built by Philadelphia Toboggan Company in 1917 for the Detroit Palace Garden Park. It's original name was Liberty, and was the 46th, out of 87 carrousels that the company built. The carrousel was moved around 1928 to Olympic Park in New Jersey, where it was in operation for 39 years. Olympic Park closed in 1967, and Disney then purchased it for restoration and installation in the Magic Kingdom in 1971.
Previously known as 'Cinderella's Golden Carrousel', the attraction was renamed as  Prince Charming Regal Carrousel on June 1, 2010.  I still can't get used to the name change.  My family and I still call it Cinderella's Carrousel!
Here is the official back-story to the name change.
Following their fairy-tale romance and happily-ever-after wedding, Cinderella and Prince Charming took up residence in Cinderella's Castle. With peace throughout the kingdom, Prince Charming had time to practice for jousting tournaments. In the countryside near the castle, he built a training device of carved horses, on which he could practice the art of ring-spearing, a tournament event in which a knight rides his horse full speed, lance in hand, toward a small ring hanging from a tree limb, with the object of spearing the ring. This event was known by various names throughout the lands, but generally came to be called "carrousel."
The carrousel device drew the attention of the villagers, who wanted to take a turn on this amazing spinning contraption. So Prince Charming had a second carrousel constructed closer to the Castle, where everyone could take a spin on this wondrous invention. Instead of a working knight's training device, however, this new carrousel is more befitting its regal location in the Castle Courtyard – its rustic training horses replaced with ornately decorated prancing horses adorned with golden helmets and shields, flower garlands, feathers and other decorative ornaments. Prince Charming invited one and all to test their horsemanship skills and to enjoy their own happy ending.
Details
Facts and Figures
Number of horses: 90, 18 rows of 5
Ride time: 2 minutes
Cinderella's horse: Identified by a golden ribbon on the tail
Sizes of horses: 5 different sizes, with the largest on the outside
A unique horse: every horse is unique and is individually numbered on the bridal
Lighting: Over 2000 individual light bulbs decorate the carousel
Scenes: 18 scenes from Cinderella were hand painted
Yes, this attraction is designed with children in mind but adults of all ages can enjoy the Carousel Horses as well.  After all, this is Disney!!
(Information from wdwmagic.com)